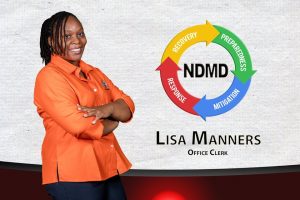 Lisa Manners is employed at Disaster Management as an office clerk. She attended the Holy Rosary, St Anne's Primary School and the Cardinal Heenan High School in Leeds England.
At the age of 14 she migrated to Nevis with her parents and sister. She attended the Gingerland High School and upon leaving school worked in several government departments.
Lisa has completed courses in Supervisory Management and Business Communication at the UWI Open Campus Nevis and gained certification. She has also gained certification at the Thomas Danby College Leeds England in secretarial studies. Lisa has participated in a number of courses while at Disaster Management such as Health and Safety, First Aid Training and Mass Casualty.
In her spare time she enjoys travelling, hiking and cooking.